Report into cargo ship grounded off Margate in October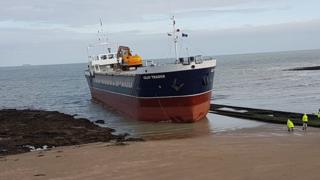 A cargo ship ran aground after its chief officer onboard became "overwhelmed", an investigation found.
The Islay Trader got stuck near Margate Harbour on 8 October when its anchor failed to catch on the Thames Estuary bed and the ship drifted.
A Marine Accident Investigation Branch report revealed the chief officer, who was in charge of watching the anchor, did not initially realise his mistake.
When he was made aware, he did not alert the ship master, who was resting.
According to the report, the officer "did not want to disturb" the master - whom he had relieved of duty - as he "was ambitious for promotion and confident he could reposition the vessel himself".
However, he "became uncertain of the vessel's position and overwhelmed", investigators concluded.
The officer only became aware the 75-metre-long (246 ft) ship was dragging its anchor along the seafloor when the London Vessel Traffic Service, which oversees the safety of navigation in the Thames, made contact.
It advised the officer to head south and re-anchor but the ship overshot the distance and instead ploughed into Margate beach.
Records show the chief engineer asked the chief officer "where are you going?" shortly before it beached at 02:42 GMT.
It was towed from the sea bed by a tug 12 hours later and sustained damage to its bow, but there were no injuries to the six crew, and no pollution.
Islay Trader's owner and manager, Faversham Ships Ltd, said it has issued advice to all ship's masters in its fleet in light of the incident.