Sevenoaks Cygnet Hospital rated good after 'care concerns'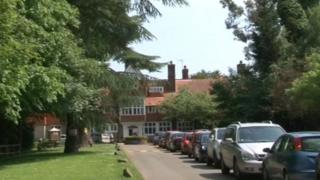 A mental health hospital in Kent that was criticised about its care standards has been rated as "good".
The Care Quality Commission (CQC) inspected Cygnet Hospital amid concerns over ward environments and incidents affecting patients' welfare.
Inspectors said the NHS provider in Sevenoaks had made significant changes.
Cygnet Health Care said it had taken "all necessary steps" to allay concerns raised and the wellbeing of people using its services was "top priority".
In February, Anya Auckland, 17, criticised the care she received at the hospital in Godden Green.
Natasha Sloman, from the CQC, said concerns were raised over the ward environments, the number and severity of incidents affecting the health, safety and welfare of patients in children and adolescent mental health wards and a failure to report incidents to external bodies.
She said: "Cygnet Hospital has worked hard to make the significant but necessary improvements required to ensure the safety and well-being of its patients, including changes to the management."
Nicky McLeod, Cygnet's chief operating officer, said: "We have taken all necessary steps to allay previous concerns raised, including implementing extensive learning development programmes for all staff and establishing a specialist management team."
She said Cygnet would continue to work collaboratively with the CQC and NHS.