Broadstairs factory protest: Six people arrested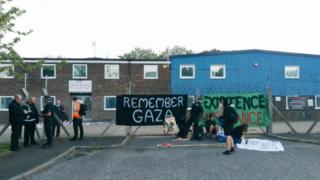 Six people have been arrested during a demonstration by pro-Palestine protesters at a factory in Kent.
Instro Precision, on the Pysons Road industrial estate in Broadstairs, has been the target of previous protests.
It is a subsidiary of the Israeli defence company Elbit Systems, which is based in Haifa.
Police said five people had been arrested on suspicion of trespass and criminal damage and a sixth on suspicion of obstructing police.
Elbit and Instro Precision have both been contacted by the BBC for a comment.
The pro-Palestine activists said their protest was over "Israel's brutal murder of 45 Palestinians in Gaza over the last five weeks".
They claim weapons developed by Elbit were tested on Palestinians and "sold as 'combat-proven' to governments around the world".