Row over Medway Council's Gillingham FC deal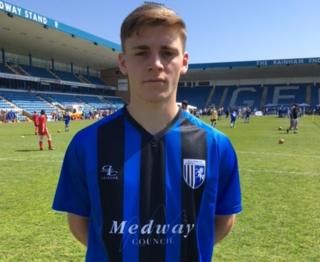 A row has broken out over a council's sponsorship deal with a League One football club.
Medway Council's arrangement will see Gillingham FC's ground being renamed Medway Priestfield Stadium.
Leader of the Conservative-run council, Alan Jarrett, said there would be no financial cost to the authority.
Vince Maple, leader of the Labour opposition, said the deal was "completely inappropriate" and "should be given the red card".
He said: "Either cash is being handed over or by the council or we're seeing in-kind services which would normally bring revenue for the council. Either way tax payers could well be losing out.
"We will be asking urgent questions from the council to try and get further clarity and detail on the sponsorship deal because at a time when council services are being cut the last thing many people in Medway will want to see is their council's name on a football shirt."
Use of pitches
As part of the partnership the council will be promoted on the Gills' home shirt for the 2018/19 season.
Mr Jarrett said: "There's not a penny changing hands, there's a deal whereby they will get to use some of our sports pitches when they're not being used and in return we will get our brand on the football club.
"As usual, the Labour group need to get their facts right."
Paul Scally, chairman of Gillingham Football Club said the team would continue to wear replica shirts from the club's 125-year history for all away games.
He said: "This is for the community - it's not a financial agreement.
"We want to better the lives of people in Medway and [benefit] businesses, families and schools."