Kyle Yule death: Best friend found him 'bleeding' after stabbing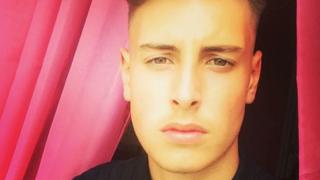 The best friend of a teenage boy who was stabbed to death has wept in court as he revealed how he found him "losing so much blood".
Lewis Dilallo gave evidence at the trial at Maidstone Crown Court of five teenagers accused of murdering Kyle Yule, 17, in Gillingham on 6 October.
Kyle died after being chased from a parked car in East Street, following alleged conflict between rival groups.
Victor Maibvisira, 19, and four other boys under the age of 18, deny murder.
Mr Dilallo broke down in tears recalling the moment he found his best friend - whom he described as "like family" to him - shortly after he had been stabbed.
He said: "Kyle was bleeding. I remember pulling off his jumper - he was losing so much blood.
"I remember him telling me he's not going to live. Me and my mum, we tried our best."
He stayed with him until the ambulance arrived but Kyle passed out.
He also revealed that he himself had been stabbed twice in the months leading up to the attack.
The first time was unrelated to this case, he told the court.
He said that a few weeks before Kyle's death, he was then attacked by a group in an alleyway and that he could not recognise them because they had covered their faces.
He later told police someone called V had stabbed him, admitting a history of conflict between him and V.
V is the nickname for Victor Maibvisira, the court heard.
The prosecution say the accused deliberately set out that night intending to kill or at the very least cause grievous bodily harm to a member of a rival group.
Mr Maibvisira, the three 17-year-olds and a 16-year-old, who can't be named because of their age, are also accused of violent disorder.
One of the 17-year-olds is also facing a count of affray.
The trial continues.