Ashford Lifeline alarm system failure left vulnerable at risk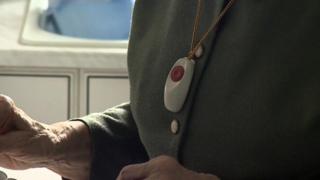 About 2,000 vulnerable people who wear an emergency alarm button linked to a call centre were left at risk following a power cut, it has emerged.
The Ashford Lifeline service in Kent went down in stormy weather during the early hours of 23 November.
A Freedom of Information request found it took six hours for the service to be reconnected, but it took more than 24 hours for everyone to be checked.
A spokesman said its response was rapid and everyone was found to be safe.
Ashford Lifeline, which is a 24-hour service providing an instant response at the touch of a button, is part of Conservative-run Ashford Borough Council.
It provides a home and personal safety alarm system that enables people to live independently in their own homes.
It is not only used by the elderly, but also by vulnerable young people, people with disabilities or those just discharged from hospital.
The council said a debrief following the incident highlighted a series of problems.
There were not enough printers to print off contact details of the elderly, and a member of staff had to go out and buy a new one; there were too few landlines on which to contact people to see if they were OK, and staff had to use their personal mobiles; and some contact numbers were not up to date.
The Labour group leader on the council, Brendan Chilton, said the authority's response fell short of what was expected.
"Our tenants need to know that if they're in our properties they're safe, they're being looked after, and they're being cared for.
"Frankly this was a failure on the part of the council and they should have dealt with it far quicker," he said.
A spokesman for the council said the problem was down to a failure in "uninterruptable power supplies" which had since been resolved to ensure no such incident could happen again.