Three new super-sized GP practices proposed for Thanet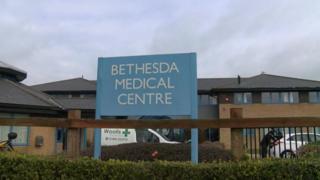 NHS managers in east Kent are proposing to create three new super-sized GP practices, with each one catering for tens of thousands of patients.
If the multi-million pound plans are approved for Thanet, patients could go to their GP for procedures currently only available in hospitals.
These would include ultrasound scans, X-rays, and some minor surgery.
Plans have already been submitted for a £6.5m extension to the Bethesda Medical Centre in Cliftonville.
There could also be a similar "one-stop shop" for health and care at Westwood Cross, costing an estimated £10m, along with more services for Ramsgate.
Live: More news from across the South East
Dr Tony Martin, clinical chair of the Thanet Clinical Commissioning Group and senior partner at Bethesda, said it would not mean there would only be three surgeries.
"It doesn't mean that all the others will close, but there will be three hubs that are centres for more advanced care.
"Bringing staff from various organisations together under one roof has huge benefits for patients, particularly people with more complicated health and care needs," he said.
It is hoped the new Bethesda centre will open in two years' time and cater for up to 32,000 patients.
It would be open evenings and at weekends.