Kent NHS autism backlog sees children waiting for years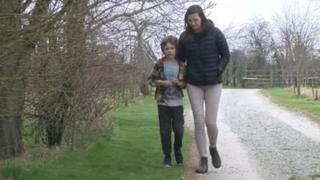 About 800 children have been waiting months to be assessed for autism and ADHD after a company handed the service back to the NHS, a report has shown.
A commissioners' report to Kent County Council said most had waited since mid-2016 - but some as far back as 2015.
The company, Psicon, said it ran the service from 2015 to 2017 with a budget to see a specific number of children and delivered "exactly what was asked".
The NHS said it had tried to resolve the problem and apologised.
Hazel Smith, director of strategic commissioning for Kent and Medway NHS, said: "We have invested an additional £2.5m to resolve the problem. For whatever reason it hasn't been fully resolved."
Georgia Rennie, from Canterbury, whose son had to wait for nearly two years for diagnosis, said: "It affects the child and the whole family. It's awful to know that your child is suffering because it's taking so long."
Tim Nicholls from the National Autistic Society said families and children could struggle without support.
He said: "It can mean they don't have access to things like short breaks or respite, it can mean that they don't have a little bit of additional help around the home, or it can mean that they don't get the right support in schools."
Psicon transferred the service for children requiring autism and ADHD assessments back to the NHS on the planned transfer date of 1 September, when a new contract came in.
In a statement, Psicon said: "We were provided with a specific budget to see a specific number of children within identified timeframes.
"During the time of operation, we brought the waiting list down to around three months from two years as the budget was available but [were] instructed to see fewer children as budgets changed. This had an impact on the waiting list."