G4S staff at Medway youth jail cleared of misconduct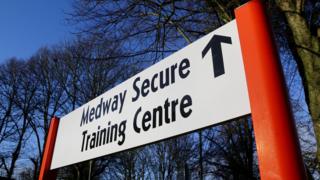 Four men accused of threatening and assaulting children at a youth jail in Kent have been cleared.
Anthony Dance, 28, Gareth Evans, 27, Matthew Cunningham, 37, and Christopher Lomax, 36, had been charged with misconduct in a public office.
Police investigated after BBC Panorama broadcast undercover footage of Medway Secure Training Centre from 2015.
On 9 March, two men were cleared by a jury at Maidstone Crown Court and the others have now been formally cleared.
'Difficult and sensitive'
At the earlier hearing, Mr Evans, of Tintagel Gardens, Rochester, and Mr Lomax of Timbertops, Chatham, were acquitted of two charges each of assaulting and threatening inmates, by a majority verdict of 11 to one.
Mr Dance, from Hailsham, East Sussex, was found not guilty of misreporting an incident.
However, the jury had been unable to reach a verdict on allegations he, and Mr Cunningham, of Megby Close, Gillingham, assaulted and threatened inmates and the charges were dismissed.
That disagreement on 9 March can now be reported after the Crown Prosecution Service decided at the latest hearing against pursuing a retrial for Mr Dance and Mr Cunningham.
The Panorama footage was secretly filmed by Robert Padmore, who got a job at the Rochester centre.
Earlier, Judge Carey said it was a "difficult and sensitive case".
BBC criticised
After the hearing, Mr Cunningham criticised the BBC and said: "The show was broadcast and the next day I was fired without any notice, and arrested the day after that.
"I've not been able to get a job, I'm on the verge of bankruptcy. I've had depression and anxiety since."
He accused the BBC of "shocking editing", claimed the programme lacked facts or context and said he was considering legal action.
A BBC spokeswoman stood by the allegations made in the programme, adding: "There is a serious case review underway, prompted by our investigation, looking at the lessons to be learned.
"That would not have happened without BBC Panorama's investigation and our undercover reporter's work and we remain committed to investigative journalism."
---
Background to the case
By January 2016, seven members of staff were suspended amid the allegations, and four were sacked.
Eight staff were charged over the scandal
Rebecca Harold, of Maidstone, James Beech, of Sittingbourne, and Jonathan Kane, of Gillingham, all had the cases against them dismissed due to a lack of evidence
Peter Scott, of Gravesend, Kent, admitted taking photographs and making recordings inside the prison and was ordered by magistrates to carry out 100 hours of unpaid work
---
G4S held the contract to run the centre from 1998 to 2016, at which point the government took over.
The following month Ofsted rated the site inadequate after it emerged that inmates had access to pornography.