Tunbridge Wells Hospital 'sent man home with broken neck'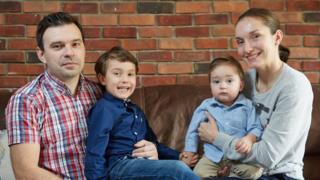 A man who suffered a broken neck has begun legal action after being sent home from hospital with painkillers.
Anton Frolov spent three months at risk of paralysis and in pain after claiming doctors at Tunbridge Wells hospital in Kent "dismissed" his injuries in 2015.
A private osteopath eventually diagnosed the break and Mr Frolov's lawyers said the hospital should have conducted "full and thorough checks" .
Maidstone and Tunbridge Wells NHS Trust investigated Mr Frolov's complaint.
A spokeswoman said: "We sent him an explanation of what happened and what we have learned from this case."
Solicitor Sue Jackson, of Hudgell Solicitors, said: "The hospital should have conducted full and thorough checks, including X-rays.
"They left him at risk of being left permanently paralysed with every day that passed until the fracture in his neck was discovered."
Mr Frolov, 36, said hospital staff were "very unconcerned and dismissive" and "just said it would be whiplash", after suffering his injuries when he fell and hit his head in 2015.
The father-of-two was unaware the broken bone at the top of his neck was pushing against his spinal cord.
But when the pain did not go, he went to his GP and was referred to a physiotherapist.
Working from the hospital's diagnosis Mr Frolov said the physio advised weight exercises to strengthen his muscles and said "pain and cracking in the neck was normal".
But, with no improvement Mr Frolov turned to an osteopath, who immediately spotted the break and alerted the hospital.
He was referred to specialists at London's St George's Hospital, who found the bone had started to heal in the wrong position and as a result he needed surgery and two titanium bolts inserted to align the vertebrae.
Mr Frolov said he has been left with limited movement of his neck, and life-long pain.