Southeastern rail commuters cramped as services cancelled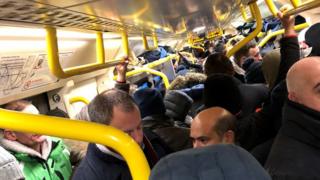 Rail commuters faced cramped and difficult journeys after snowy weather forced train cancellations.
Some travelling into London earlier posted pictures to Twitter showing packed trains and long delays on station platforms.
More than 50 railway stations are shut in Kent and East Sussex after forecasts of bad weather.
Southeastern and Network Rail said they had developed a contingency plan and published an emergency timetable.
"This is a joint decision taken by Southeastern and Network Rail and includes the closure of several parts of the network, and around 50 of the 180 stations on the route," a statement said.
The statement said train times had been amended until Saturday with more snowfall forecast, but extra teams were on the ground to clear platforms and tracks.
It said some locations had less snow, but sub-zero temperatures and significant snow elsewhere could still cause disruption.
The Sheerness, Medway Valley, Canterbury East and Coastal line via Deal were all suspended.
And more stations were shut between Ashford and Swanley, with services from parts of Kent into St Pancras and Victoria cancelled because of train faults.
Dover MP Charlie Elphicke criticised Southeastern for the move.
And on Twitter Nathan Honey, a passenger on the 07:03 GMT from Gillingham to London Victoria, said Southeastern not declassifying first class was "crazy".
He added: "We'll all stand cramped while one guy has 15 seats to himself.
"Good work. I'm only paying £4k a year so why expect any kind of decent service. He's paying £6k so is totally worth it."
Another rail user, @sherifkader, on the 06:42 GMT service between Bexleyheath and Charing Cross also captured the cramped conditions.
Despite arriving 15 minutes late at Kidbrooke, and conceding it was "not the best commute", he added the driver was "a great communicator" and wanted to keep everyone safe.
Meanwhile on Southern, an 8ft icicle in a tunnel at Balcombe meant trains had to run at a reduced speed.