Medway Council budget meeting votes for 6% tax rise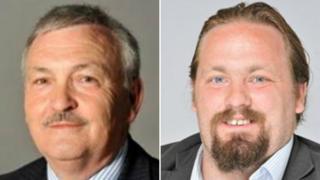 Council tax bills for the average home in Medway are set to rise by nearly £100 from April.
Conservative councillors voted to increase council tax by 6% on Thursday, despite Labour and UKIP opposition.
Band D homes will see a basic rise of £77 a year, but increases in Kent Police and fire and rescue services payments will bring the total to £91.
Tory leader Alan Jarrett said after government cuts it was vital to "ensure we provide the services people need".
The tax rise, which is the largest possible before a public referendum is held, also includes 3% solely for adult social care.
Labour leader Vince Maple accused the Tories of having a "complete disregard" for residents.
Protesters outside the meeting, in the St George's Centre, Chatham, called on the council to save the nearby Royal Voluntary Service Centre.
In response, Mr Jarrett said there had been a change of heart regarding plans to cut £35,000 of funding for the charity, which helps lonely older people.
It has now been given six months worth of funding - £17,500 - to provide the centre with time to find another way to fund itself.
On adult social care, Mr Jarrett said the 3% rise was "absolutely crucial" and without it there would "have to be budget reductions elsewhere and a negative impact on other services."
Charges for burial and cremation services will also increase by 7%, and motorists will see above-inflation increases for most parking permits.
With the money saved, there is to be investment in festivals, free parking at Christmas, and roads.
But, Mr Maple said: What we've seen is holes in their budget, inflation busting increases in services like the cremation services, continued cuts to our services and multi-million pound unknown cuts - 'transformation savings' - that have no real detail.
"We simply cannot support that."