Thanet council's UKIP leader Chris Wells to step down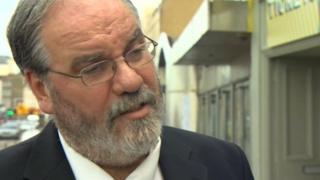 The UKIP leader of Thanet District Council is stepping down after 12 of the party's 25 councillors set up an independent group.
Councillor Chris Wells will formally resign on 28 February, after which a new leader will be elected.
Fourteen UKIP councillors and Henry Bolton, the national party's ex-leader, had called for Mr Wells to go in a row over the former Manston Airport site.
Mr Wells said his actions recognised "a simple fact of political life".
He said: "It has been a rare privilege to lead this council through some difficult times, facing declining budgets and increasing demand for services.
"My resignation recognises a simple fact of political life, that an administration needs to win votes to get policy through."
UKIP was elected on a promise to return the Manston site to use as an airfield, but Mr Wells backed a plan which would see part of it used for housing.
The 12 UKIP councillors who broke away from the party are now known as the Thanet UKIP Independents.
They had planned to produce a motion to ask for Mr Wells to be removed from his post unless he resigned.
Mr Wells had come to power to front the only UKIP-led council in the country.
A new leader will be elected on 1 March.
Analysis: Helen Catt, BBC South East political editor
Against all the national drama of the ousting of Henry Bolton, with all its lurid detail of love affairs and "secret" dinners, it is notable that what looks set to end UKIP's only real taste of power is an issue of pure policy.
The party won control of the council in 2015 on a pledge to reopen the much-loved Manston Airport on the edge of Ramsgate.
Since then, the leader, Chris Wells, has come to the view that it is not feasible and it should become housing instead.
Unfortunately for him, almost half his party disagree.
For them, his reversal is a simple betrayal of a pledge they made to voters.
After they split, it was just a matter of time before Mr Wells had to concede he, like his former leader, simply no longer had the numbers.
Of course, it is possible the councillors from both factions could reconcile and stay in charge.
That, though, looks unlikely.