Kent campaigners in demo over stroke service proposals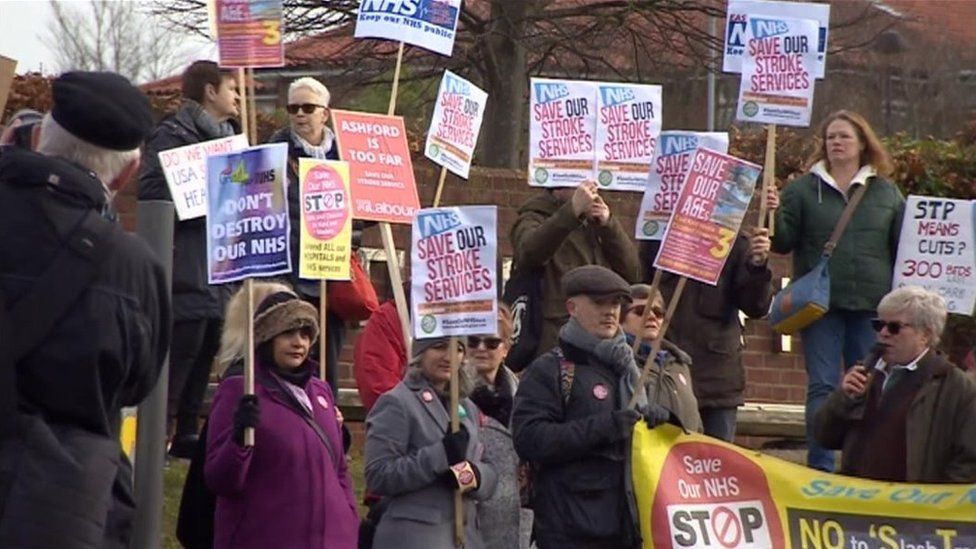 Campaigners have staged a protest in Margate against proposals to change stroke services in Kent.
Kent's Save our NHS group said their nearest stroke centre will be more than an hour away, under the plans.
The NHS wants to concentrate services with specialist units at three hospitals in order to improve care.
Currently, urgent stroke care is provided at six hospitals, but health chiefs say they cannot deliver the standard of care people should expect.
Campaigners in Thanet have said they will have to travel nearly 40 miles to reach the centre in Ashford.
Protester Alex Steine said: "This is a very large community and I've recently had surgery myself so I know what sort of discomforts there are when you have to go so far away.
"People can't visit very easily."
Another campaigner Rebecca Gordon-Nesbitt said: "Our concern is that that's not nearly close enough.
"It takes about an hour-and-a-half for people from Thanet to get to Ashford and we're told by many authorities that you should be treated for stroke within the first hour."
Dr David Hargroves, clinical lead for the stroke review and senior stroke consultant at East Kent Hospitals NHS, said: "There is clear evidence that patients benefit most from being treated at a hyper-acute stroke unit in the first 72 hours after their stroke, even if that means ambulances driving past the nearest A&E department to get to one."
Health chiefs said no preferred option would be identified until all the evidence and data had been considered, along with feedback from the public consultation.
Related Internet Links
The BBC is not responsible for the content of external sites.