Chatham car park killer 'desperate to avoid abandonment'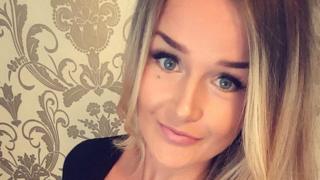 A man who stabbed his ex-girlfriend to death had a "hypersensitivity to rejection", a psychiatrist has told a court.
Molly McLaren, 23, died in a "frenzied" attack in her car at a shopping centre in Chatham, Kent, on 29 June.
Joshua Stimpson, 26, has admitted manslaughter but denies murder.
Maidstone Crown Court heard Stimpson became "desperate" to avoid abandonment after his mother left when he was a teenager.
Opening the defence case, Oliver Saxby QC said Stimpson would not be giving any evidence in his defence.
Psychiatrist Dr Shahid Majid from the Trevor Gibbens Unit in Maidstone Hospital - where the defendant was referred after being remanded in custody - said Stimpson is "emotionally unstable" and "driven by the highly abnormal personality he has developed".
The doctor said this did not impair his ability to understand the nature of what he did but would have impacted his judgement before and during the act, as well as his ability to exert self control.
The jury were previously told Ms McLaren was stabbed more than 75 times in her car., with a knife Stimpson bought two weeks before.
The court heard Stimpson took his parents splitting up very badly and the feeling of abandonment from his mother leaving was "more significant than it might have been for others".
In the years that followed, he was repeatedly referred to Kingsley House mental health clinic in Gillingham.
Dr Majid said he refused counselling, "hoping the simple fix was to take a tablet".
But Stimpson's symptoms were "much more complex" than that, the doctor told the court.
'Narcissistic'
Dr Majid said Stimpson has a "hypersensitivity to any rejection" and will do anything - including lie and manipulate - to keep a relationship going.
"When rejected feels absolutely abandoned so the best way to cope is to think this person isn't perfect. They become object of hatred."
However, giving evidence for the prosecution, psychiatrist Dr Philip Joseph said Stimpson does not have a personality disorder but has narcissistic traits.
This includes being vain, immature, needy, and finding it difficult to put the feelings of others above his own, he told the jury.
Dr Joseph said: "He clearly has a serious problem relating to women but that doesn't mean he's got a personality disorder.
"With a personality disorder you don't carefully plan something. If he has got a disorder it's got no link with the killing. The killing is too premeditated.
"I'm not sure how much remorse he's shown after the death of Molly. I think he's been more concerned about himself."
Stimpson denies murder on the grounds of diminished responsibility.
The trial continues.