Gillingham mother and baby deaths remain mystery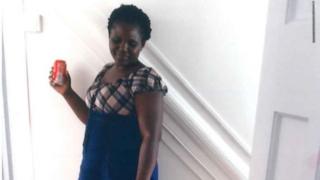 The reason a mother and toddler died in their "spotless" flat remains a mystery, a serious case review found.
Lillian Oluk, 36, and two-year-old Lynne Elizabeth Mutumba were found at their home in Gillingham, Kent, on 14 March 2016.
Ms Oluk's student visa had expired and she was applying for permission to remain in the UK.
In September 2016 the assistant coroner for mid-Kent and Medway recorded an open verdict into their deaths.
The serious case review carried out by Medway Safeguarding Children Board found: "None of mother's contacts with agencies or professionals offered any indication that either she or her daughter were at risk of significant harm or death.
"Given the number of sources of stress she was experiencing and her degree of social isolation, [Ms Oluk] showed considerable resilience and determination".
The review found the failure of Ms Oluk's GP practice to notify the child health team of the family's arrival in the area was the "most significant missed opportunity"
John Drew, independent chair of Medway Safeguarding Children Board, said: "New GP registration arrangements have... been put in place to ensure that the details of children arriving from outside of Medway are shared with health visitors and school nurses."
'No evidence exists'
Ms Oluk arrived in the country in 2009 after leaving Uganda to escape the stigma of being HIV positive.
After over-staying her visa she was unable to work while her application to remain was being processed.
She was referred to social services and moved to Gillingham, where she was being housed by Croydon Borough Council.
Di Smith, from Croydon Borough Council, said: "We have strengthened commissioning arrangements around services for this vulnerable client group to ensure all providers are aware of their safeguarding responsibilities and, where families relocate, that the new local authority are aware of their needs as a vulnerable family."
Ms Oluk's flat was spotlessly clean, with only two fingerprints, and the bathroom and fridge were empty when the mother and daughter's bodies were discovered, Kent Police said.
The serious case review report said: "It is possible, though no evidence exists to confirm, that mother's mental health deteriorated sharply in early 2016 and might have led her to cease feeding herself and/or her child."