Fire hazard fears after Margate industrial waste discovery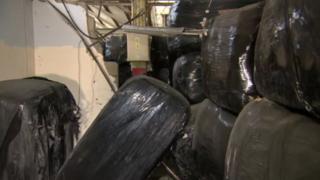 Thousands of tonnes of waste rotting in a disused factory could be a health and fire risk, it has been claimed.
Neighbouring businesses on the Westwood industrial estate in Margate, Kent, have complained of rat and fly infestations.
The BBC has been attempting to contact the man thought to own the site. It is not clear if he knows about the waste or had any involvement in storing it.
The Environment Agency said it was investigating.
Kevin Bolden, who works nearby, said "authorities" were alerted in the summer "because the smell got so bad" it caused a fly infestation.
He said the issue was investigated and the rubbish in the factory discovered.
The waste has been shredded, dehydrated and wrapped in bales of polythene - as though it has been prepared for an incinerator.
Environmental waste expert Prof Robert Lee, of Birmingham Law School, said: "People compile volumes of waste, sort out the waste with the highest calorific intake but then find they don't have a market for it.
"And so it gets left as a fire and health risk."
He added: "We won't know what is in the waste until it is carefully examined but it will be mixed waste and therefore there will be contaminants."
The now-vandalised factory has bales piled high, wedged against walls and doors of the building amid broken glass and rubble.
Mr Bolden said: "The children playing in here is probably the biggest concern.
"They are smashing the place up, the power could be on it has been, they turn the water on and flood the floor.
"So you have got a combination of water and electricity... you have only got to draw your own conclusions as to what is going to happen."