Chatham car park killing: Molly McLaren stabbed 75 times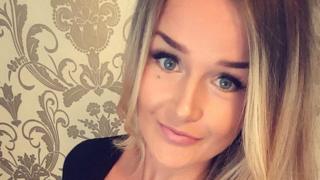 A woman stabbed to death by her ex-boyfriend had at least 75 wounds to her neck, head and body, a jury heard.
Molly McLaren, 23, was killed in a "frenzied" attack in her car at the Dockside shopping centre in Chatham, Kent, on 29 June.
Joshua Stimpson, 26, has admitted manslaughter but denies murder.
Pathologist Dr Olaf Biedrzycki told Maidstone Crown Court Ms McLaren would have lost consciousness "within seconds".
'Grabbed his leg'
The jury also heard from a witness who said he tried to disrupt the knife attack by slamming Stimpson's leg in the car door.
Benjamin Morton described to the court how he noticed a struggle inside the car and soon became aware "it wasn't just a fight" as the man "seemed to have something in his hand".
He said: "She was trying to defend herself at that point. He was clearly attacking her and she had her hands up to try to stop him."
After noticing blood in the car he called out across the car park for help and "banged on the window, on the bonnet" in a bid to distract Stimpson.
The jury was told when the witness saw Stimpson trying to cut Ms McLaren's throat he moved to the driver's side of the car where his leg was sticking out and tried to slam the door on it.
"I grabbed his leg to see if I could pull him. His leg was covered in blood. I stepped back and looked inside the car.
"I could see her throat had been cut. He seemed determined to make sure she was dead."
When he realised Ms McLaren would not survive the attack he tried to prevent Stimpson from getting away.
He then got his car and blocked Ms McLaren's car in until the police arrived, the court was told.
Stimpson denies murder on the grounds of diminished responsibility.
The trial continues.