Chatham car park stabbing: Murder accused left victim 'no me time'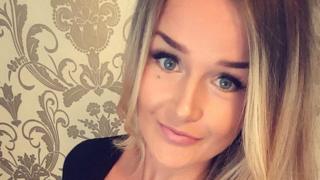 A woman killed by her ex-boyfriend felt "suffocated" by him during their relationship, a court heard.
Molly McLaren, 23, was stabbed to death in a "frenzied" attack in her car in the Dockside retail outlet car park in Chatham, Kent, on 29 June last year.
Joshua Stimpson, 26, has admitted her manslaughter but denies murder.
Her friend Amy Lee said Ms McLaren was left "physically shaking" after she saw Stimpson in a pub the night before her death, Maidstone Crown Court heard.
She told Ms Lee police had "been on to him" the night before and she had not expected to see him at the pub.
Ms McLaren said she had made the right decision to break up with him, Ms Lee said in a statement read to the court.
'No me time'
Ms Lee also told how she had been with Ms McLaren on Broadstairs beach on 20 June, where his victim told her she felt suffocated by Stimpson, and had "no me time".
"He always wanted to come on a night out or be there when she studied," Ms Lee said.
Stimpson, of Wouldham High Street in Rochester, had made a scene when Ms McLaren split up, Ms Lee said.
The court also heard about a series of WhatsApp messages between the two friends at 10:59 BST on 29 June, in which Ms McLaren detailed how Stimpson had turned up at her gym twice, in the hours before he killed her.
She then posted an image of him next to her.
Ms Lee asked: "Did you Snapchat that you were there?"
Ms McLaren replied: "No. Literally haven't put up anything."
She added: "Last night. Now today. Starting to look dodgy. It's all on video him coming in and coming next to me."
She then told her friend that she asked Stimpson why he was not at work "and he said it wasn't any of my business".
Stimpson denies murder on the grounds of diminished responsibility.
The trial continues.