UKIP leader Henry Bolton calls for Thanet council leader to quit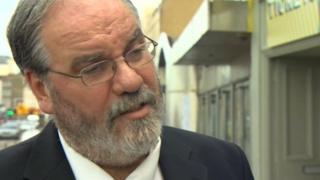 UKIP leader Henry Bolton has joined 14 UKIP councillors in calling for a local authority leader to resign after he lost a key council vote.
Chris Wells, leader of Thanet District Council, suffered a major blow when his local plan for thousands of homes on the Manston Airport site was rejected.
He came to power as leader of the only UKIP-run council in the country, vowing to reopen the site as an airport.
Mr Bolton said he "must now stand down" because of his "professional failure".
The BBC has approached Mr Wells for a comment but he has not yet replied.
Live: More news from across the South East
The UKIP leader, who has himself defied calls to step down, said Mr Wells had "contradicted the platform on which he stood for election" and "failed the people of Thanet".
"Some weeks ago I warned Mr Wells to reverse his position. He must now stand down," he said.
UKIP councillor Stuart Piper said Mr Wells had been advised that he could not count on enough members of the group to stay on as leader.
"UKIP councillors need to reassure Thanet residents that we put serving our communities with integrity at the very heart of our decision making," he said.
"This was demonstrated clearly last Thursday when we put local communities first by rejecting what we believed to be an undeliverable and unsustainable local plan.''
Mr Piper said councillors would be delivering a letter to Mr Wells asking him to resign with immediate effect.
Following the vote last week, Mr Wells said it was "disgraceful" that councillors had voted against the plans.
"It means the government will step in to take over the local plan and Thanet will have to take even more new homes," he said.