Chatham car park stabbing: CCTV shows a bloodied Joshua Stimpson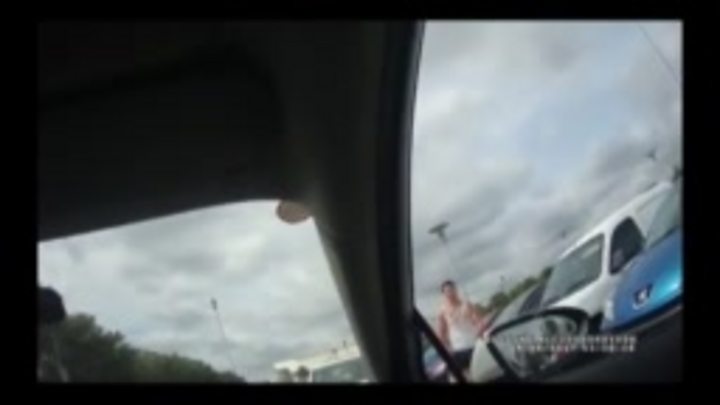 Footage of a blood-soaked man taken moments after he fatally stabbed his ex-girlfriend has been shown to a jury.
Joshua Stimpson carried out a "frenzied" attack on Molly McLaren with a kitchen knife in her car on 29 June.
When police arrived at the scene the 26-year-old was wandering around the Dockside retail outlet car park in Chatham, Kent, and arrested, jurors at Maidstone Crown Court heard.
Stimpson has admitted manslaughter but denies murdering Ms McLaren.
Prosecutor Philip Bennetts QC argued Stimpson had "carefully considered the execution of Molly" and said he was "following her movements, waiting for the moment that he has chosen to kill her".
CCTV footage shown earlier captured Ms McLaren working out at PureGym in the retail park.
After walking up and down the gym's stairs twice, Stimpson entered the fitness suite and put his exercise mat near hers.
'Strange behaviour'
They were then played body camera footage from police officers who arrived at the scene and saw Stimpson, whose clothing was spattered with blood.
At 10:45 that day Ms McLaren texted her mother saying: "Mum he's turned up at the gym and come next to me", before phoning her.
Her mother told her to go straight home, the court heard.
After getting in her car, Stimpson also got in and stabbed her with a knife he bought in an Asda store two days before.
Giving evidence, two women who previously dated Stimpson described a pattern of his "strange behaviour".
Alexandra Dale met Stimpson at a pub in 2013 but said immediately he warned her not to speak to any men, including male friends, as "he didn't like it".
She told the jury he used to "follow" her without her knowledge, taking pictures and asking her why she was "wearing certain clothes".
The court heard she once received a picture of her back garden, despite not telling Stimpson where she lived, and as she was about to go on holiday he messaged saying: "I'm going to fly out and drown you."
Ms Dale said she alerted police and the harassment stopped.
Leah Hubbard was dating Stimpson in 2016, but said she put an end to things after he spat a drink over her and knocked on her flat window at 02:00 asking to charge his phone.
Stimpson denies murder on the grounds of diminished responsibility.
The trial continues.