G4S Medway unit: Young offenders 'hit, stabbed and cut'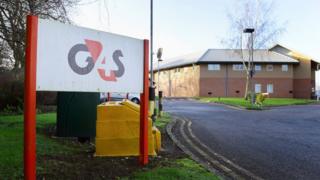 Four men have gone on trial accused of threatening and assaulting children at a young offenders centre in Kent.
Teenagers at the Medway Secure Training Centre (MSTC) in Rochester were hit around the head, stabbed and cut, Maidstone Crown Court was told.
The jury was told they would be shown footage shot for a BBC Panorama programme between October and December 2015 as well as CCTV footage.
Staff were trained in techniques to calm people down, the court was told.
The use of force was meant to be the "last available option", the prosecution said.
The court heard the centre was designed to accommodate approximately 70 children between the ages of 12 and 17 who have been remanded in custody while awaiting trial or, having been convicted of an offence, been given a custodial sentence.
The MSTC was run by G4S until July 2016 and is now run by HM Prison and Probation Service.
Knife cut 'accidental'
Anthony Dance, 27, of Hailsham, East Sussex, Gareth Evans, 27, of Rochester, and Christopher Lomax, 36, of Chatham, are all charged with two counts of misconduct in a judicial or public office, while Matthew Cunningham, 37, of Gillingham, is charged with one count.
Outlining the case against the four men, Jennifer Knight for the prosecution said Mr Cunningham had cut a 15-year-old with a knife, although the boy described it as "an accident".
Mr Cunningham was the contact for getting phones, tobacco, alcohol and lighters and he told police he had "an excellent relationship" with the boys at the centre, Ms Knight said
The prosecution said Mr Dance said he would "break the neck" of a 14-year-old and boasted about assaulting a boy with a handheld metal detector. He told a 15-year-old he had "stabbed" a boy with a fork, the prosecution told the jury.
He is also accused of holding a 15-year-old boy in a "headlock style grip" making him "go red".
A 14-year-old boy had been restrained by Mr Evans and Mr Lomax, who had his hands on the boy's throat, the prosecution said.
During police interviews Mr Evans said he "did a great job with the lads", He said assault claims were untrue and he used force correctly.
All four deny the charges and the trial continues.