Canterbury grammar school to hold Mein Kampf debates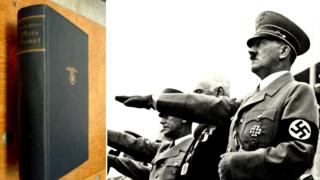 A school has defended plans encouraging students to debate controversial ideologies and texts such as Hitler's Mein Kampf.
Simon Langton Grammar School in Canterbury said the optional course called The Unsafe Space would be "the antidote to political correctness".
The National Education Union (NEU) in Kent has urged caution and some students have expressed concern.
But the school said the negative reaction was "scandal-mongering".
In a letter to parents, the school said the seminars would be "a vehicle for freedom of speech".
It said they would challenge pupils to "think oppositely" and consider "manifestos to change the world".
'Good teaching'
Christine Dickinson, secretary of the Kent section of the NEU (formerly the National Union of Teachers), said: "There are many uncomfortable subjects that have to be discussed in school but the school must be very careful about the way that they approach it."
Dr James Soderholm, running the course, said: "To examine a text is not to peddle its propaganda or fall in league with its message... it is to lay bare that ideology for inspection."
He branded the suggestion that a teacher might use Mein Kampf as a "recipe book for anti-Semitism" as "scandal-mongering".
Dr Soderholm added that anyone who did not understand was "wilfully ignorant or doesn't understand the first thing about good teaching".
The school has previously been criticised for inviting right-wing controversialist, and former pupil, Milo Yiannopoulos to speak.