Eli Cox baby death: Mother and boyfriend jailed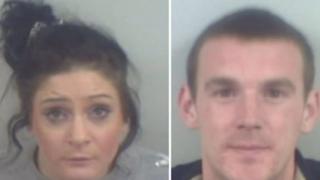 A mother and her boyfriend have been jailed over the death of her five-month-old son in April last year.
Katherine Cox and Danny Shepherd were found guilty of causing or allowing Eli Cox's death and causing or allowing serious physical injury to him.
Maidstone Crown Court heard Eli died from a "catastrophic" brain injury, had 28 fractures, and was exposed to drugs.
Cox was sentenced to eight years in prison, and Shepherd was jailed for 13 and a half years.
Cox, 33, and Shepherd, 25, of Lapwing Close, Minster-on-Sea, on the Isle of Sheppey, were also found guilty in August of possessing a class B drug.
'Infatuation with Shepherd'
Cox, a mother-of-nine, was jailed for eight years for causing or allowing Eli's death, three years for causing or allowing serious harm, and 26 weeks for possession of an amphetamine, to run concurrently.
Shepherd was sentenced to 13 and a half years for causing or allowing death Eli's death, six years for causing or allowing serious harm, and 26 weeks for possession of an amphetamine, to run concurrently.
The judge, Mr Justice Stuart-Smith, said he had no doubt that Danny Shepherd had caused Eli's injuries.
He said Cox had put her "infatuation with Shepherd" before the safety of her baby.
During a four-week trial jurors heard Eli was "regularly exposed to amphetamine and occasionally to cocaine".
Both Cox and Shepherd denied being users of cocaine and amphetamine, despite five wraps of the latter substance being found by police in a garden shed at their home.
The court also heard from a specialist bone pathologist who said the injuries to Eli's bones were "caused by pulling, twisting, grasping and crushing", inflicted on separate occasions from when he was 10 weeks old to two weeks before his death.
Senior investigating officer Det Ch Insp Ivan Beasley, of Kent Police, said Eli had "suffered more than most and was robbed of his life before it had barely begun".
He added that only Cox and Shepherd knew "the true extent of the abuse Eli was put through".
Det Ch Insp Beasley also said of Cox: "She was aware of the injuries that Danny Shepherd was causing to her baby but she chose to ignore what he was doing to that child."
A serious case review is under way to establish if Eli's death could have been prevented by the authorities.
It is not due to be completed before next February.