Kent PCC Matthew Scott's parked car 'seen rolling away'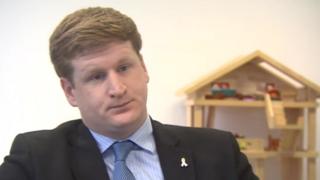 A police chief is to decide whether to take action after Kent's police commissioner (PCC) apparently left his car parked without the handbrake on.
The incident was witnessed by BBC reporter Jon Hunt and a cameraman at Kent Police's Maidstone headquarters.
The locked car was seen to roll backwards through the entrance, turn and cross a footpath on to a grass verge where it just missed a lamppost.
PCC Matthew Scott told the BBC reporter he had left his handbrake on.
He confirmed the vehicle was his car.
Kent's assistant chief constable Tony Blaker told the BBC he had been made aware of the incident.
He said a full report was being prepared and he would decide what, if any, action was required.
He added the case would be dealt with as it would with anyone else.
'Normal procedure'
A spokesman for Kent Police confirmed the force had been made aware of an incident involving a vehicle at its headquarters in Sutton Road.
"The circumstances of the incident are to be reviewed as per normal procedure," he said.
Adrian Harper, of the Kent Police and Crime Commissioner's office, said: "I have notified Kent Police that the PCC's private car was involved in an incident at Kent Police headquarters on 11 October, and have requested Kent Police reviews the incident."
This is the second of Kent's PCCs to be investigated over allegations of a vehicle offence.
Former PCC Ann Barnes faced a probe into her car insurance. A police watchdog report concluded she may have been driving without insurance.