Tunbridge Wells' dead squirrel fraudster jailed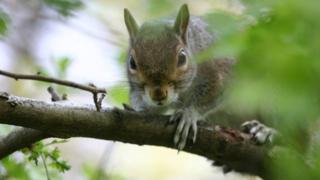 A builder who used a dead squirrel to trick people into paying for pest control work on their home has been jailed for a year.
George Johnston, 34, of Sandhurst Road, Tunbridge Wells, pleaded guilty to four counts of fraud by false representation at Sevenoaks Magistrates' Court.
He admitted cold-calling neighbours and asking money for roof repairs by "exaggerating" pest infestations.
Johnston was to ordered to pay back his victims the money from the scam.
Chairman of the magistrates' bench Beverley Charman said he targeted "older" victims between 19 February and 20 May 2017, and failed to respond to warnings from trading standards.
'Over-enthusiastic'
Johnston cold-called in areas including Sandhurst Road and Ferndale, and defence lawyer Andrew Main said he had made £2,130 from the scheme.
He described Johnston as "an over-enthusiastic jobbing builder who has taken his chances and fallen foul of the law".
Mr Main added: "There was an element of genuine work that needed to be done but he acknowledges there was an element of exaggeration and he pleads guilty to the frauds."
He was ordered to pay a total of £2,330 in compensation, £115 victim surcharge and £85 costs.
Johnston is currently serving a prison sentence for assault and the jail sentence was imposed to run concurrently with that.