Tonbridge statue honours Olympic champion Dame Kelly Holmes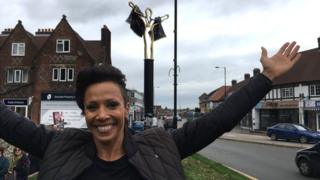 A statue of double Olympic champion Dame Kelly Holmes has been unveiled in the retired athlete's home town.
The abstract sculpture by local artist Guy Portelli has been erected on a plinth by St Stephens Church in Tonbridge, Kent.
Dame Kelly, who went to school in Tonbridge and lives locally, won two gold medals at the Olympics in 2004.
Unveiling the statue, she told children who were present: "Find something you enjoy and never give up."
Just one year before her double gold triumph, Dame Kelly was self-harming as she struggled to overcome injuries she thought would end her career.
"At my lowest, I was cutting myself with scissors every day that I was injured," she recently told the BBC.
Dame Kelly Holmes
Born in Kent in 1970, Dame Kelly went to school in Tonbridge and started training for athletics at the age of 12
She began competing at an international level in 1992 while in the Army and became a full-time athlete in 1997
2003 she sanks to her lowest point because of injury
2004 she claimed double Olympic gold and is crowned BBC Sports Personality of the Year
2005 she became a dame, was named Laureus World Sportswoman of the Year and announced her retirement from athletics
2016 she ran the London Marathon for the first time
---
In 2012, Dame Kelly carried the Olympic torch through Tonbridge and then brought the Commonwealth baton to the town in 2014.
She said she was "proud" of her roots and added: "Now, we've put Tonbridge on the map."
The sculpture has been mounted on a plinth incorporating the artwork of children from three local primary schools - The Slade, Woodlands and Sussex Road Community School.
Dame Kelly joked she was glad the artwork, a simple silhouette wearing a medal, was "abstract" and did not look like her as she "might not like the hairstyle".
Artist Mr Portelli and a Tonbridge business teamed up to create the "Olympic-themed welcome" to the town.
The £7,500 work has been paid for by Tonbridge & Malling Borough Council with funding provided by the Government's High Street Innovation Fund.