HGVs parked illegally overnight to be clamped in Kent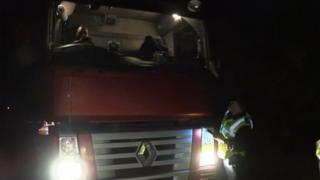 A council in Kent is to become the first in the UK to clamp illegally-parked HGVs at the first offence.
Ashford Borough Council has previously fined lorry drivers for the first two offences of overnight parking in non-designated areas.
European collection agencies had to be employed to track down drivers and collect the fines.
The new move has been developed between Kent County Council (KCC), the borough council and Department for Transport.
Matthew Balfour, KCC cabinet member for transport, said: "Under this new scheme we can clamp lorries that are flouting the ban, fine them and charge them to remove the clamp."
He said overnight parking of HGVs would not be allowed along the A20 between Charing and Ashford, and on adjoining roads to stop lorries moving further on.
'Nowhere to go'
Ellingham industrial estate, The Orbital Park, Sevington and Ashford Business Park, also in Sevington, will also be covered by the new clamping scheme, which will run between 20:00 and 07:00 Monday to Friday and all day on Saturdays and Sundays, from 30 October.
Borough council officials said although there were many designated lorry stops in Kent, many residents had experienced issues with trucks parking overnight on side roads and in industrial estates.
Natalie Chapman from the Freight Transport Association, said: "We absolutely feel for residents who have lorries parked outside their houses but we're not sure how much difference this will make."
She said there was already a shortage of overnight parking for lorries and existing sites for overnight parking were full almost every night.
She added: "We need a new network of lorry parks so there is somewhere for lorry drivers to go."