South East Coast Ambulance Service fails to improve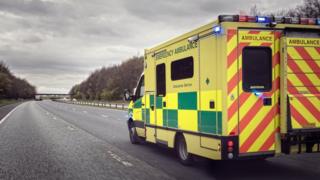 An ambulance service trust that came under fire for a culture of bullying will remain in special measures after failing to improve sufficiently.
South East Coast Ambulance Service NHS Foundation Trust (Secamb) has been judged inadequate by the Care Quality Commission (CQC).
Safety and leadership are areas of concern, but the 111 service was good.
Trust chief executive Daren Mochrie said he was "disappointed" but "confident progress is being made".
NHS Improvement placed the trust into special measures last September, saying there were concerns about a "toxic" atmosphere.
At the time, emergency and urgent care was rated inadequate, and emergency operations required improvement.
They remain in a similar condition this year, according to the latest report.
The chief inspector of hospitals, Prof Edward Baker, said: "I am concerned the previous leadership had not fully addressed longstanding cultural issues and in particular the historical problems of bullying and harassment. While the problem is now being addressed there is still work to be done.
"It is clear there have been deep-rooted problems."
He said Mr Mochrie, who was appointed in April, would bring "renewed stability" to the trust.
Mr Mochrie added: "Staff are working flat out to ensure the necessary improvements continue to be made and I am pleased that staff told inspectors that they feel more positive about the organisation and that we are heading in the right direction."
---
CQC key findings
Failure to consistently record 999 calls, or complete and securely store patient records
Poor medicine management
Varied standards of cleanliness
Equipment overdue servicing and possibly unsafe
Staff lacking training in safeguarding children
Significant problems with ambulance waiting times, with patients put at risk through delays in treatment
Poor communication with staff
Disconnection between front-line staff and senior managers, although staff felt supported by their immediate managers
Inconsistent bariatric service provision
---
The trust was praised for making the service more accessible with an emergency text system and alternative language line, and for its outstanding hazardous area response team.
Staff were found to be consistently compassionate, kind and respectful - particularly to those in mental health crisis.
Secamb is also working well with police, fire services and GPs, the report found.
---
Analysis: Mark Norman, BBC South East health correspondent
The ambulance service at all levels - from the chief executive down - will be disappointed but not surprised at the inspector's decision to leave the trust in special measures.
It's been an eventful year. A new chief executive; a move to new headquarters in Crawley; staff having to learn a new operating system in their emergency call centre, and all against the background of a significant increase in emergency calls every month.
The inspectors have acknowledged that "staff were found to be consistently compassionate".
However, some of those staff must feel frustrated that some apparently simple issues remain unresolved more than a year after inspectors highlighted serious concerns.
Staff training, managing medicines safely, maintaining and servicing equipment and the accurate recording of 999 calls remain outstanding issues for inspectors.
The CQC returned unannounced to the trust last week and tell me they have seen improvement since their May inspection.
---