Work with 'gorgeous EU women', MP Craig Mackinlay says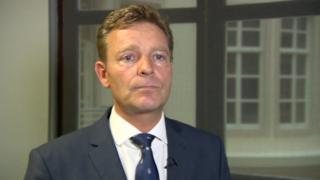 A Conservative MP has been criticised for saying unemployed young people should take farm jobs working with "gorgeous EU women".
Craig Mackinlay, the MP for South Thanet, told a fringe meeting at the Conservative conference that British youngsters should match the motivation of low-skilled European workers.
He has been branded "misogynistic" and "patronising" by other MPs.
Mr Mackinlay said his "flippant" remarks had been taken out of context.
"I was struggling to think why wouldn't a youngster from Glasgow without a job come down to the south to work for a farm for the summer with loads of gorgeous EU women working there?" the Business Insider quoted him as saying.
"What's not to like? Get on your bike and find a job."
'Misogynistic and patronising'
Christine Jardine, the Liberal Democrat MP for Edinburgh West, branded his comments as "misogynistic" and "ignorant".
"Rather than making dismissive and offensive remarks, the Conservatives should be investing in training to get more British young people into work," she said.
"Maybe Mr Mackinlay should follow his own advice and start picking fruit rather than picking fights."
The Labour MP for Feltham and Heston, Seema Malhotra, also said Mr Mackinlay's comments were "misogynist and patronising".
She added: "It is attitudes like this that do not belong in a modern, diverse and tolerant society that the UK is.
"I hope that he will retract this statement and show far more respect to workers and to young people."
Mr Mackinlay said his remarks had been taken out of context and he was saying people in the UK should be more willing to move to find work.