Kent County Council: Leader warns more services will be cut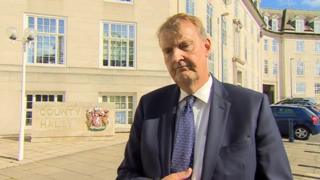 The leader of a Conservative-controlled council said the "day of reckoning is coming" if the government does not ease austerity measures.
Paul Carter, of Kent County Council, warned essential frontline services could be cut next year, with extra pressure expected from a removal of the public sector pay cap.
Prime Minister Theresa May said the country must "live within [its] means".
Mr Carter says the council has already made its "fair share" of savings.
He said the council's budget for 2018/19 was being stretched so far it was "getting very close to the elastic breaking".
---
The budget in figures:
The council is expected to make around £75m of savings next year, out of a £900m budget.
In the past five years the council's grant from central government has been cut by £185.4m.
The council says it has made savings to the tune of £417m in the same period, because of the drop in funding and increased demand in services.
---
While many savings are already accounted for, Mr Carter said the last £15-20m of the £75m was an "impossibility" without making "unpalatable" cuts to frontline services.
He would not reveal which services to "avoid public panic".
Mr Carter's concerns were put to the prime minister.
Mrs May said: "We need to live within our means as a country. What we need to do is ensure we have a balanced economy dealing with our debts to keep a strong economy.
"And also of course keeping taxes low for working people and continuing to invest, as we are, in our public services with record levels of investment into the NHS and schools."
In July Kent county councillors voted for a 15% increase - nearly £2,000 - in members' allowances. Allowances had not been increased since 2009.
When asked if this was the right decision in light of the financial pressures, Mr Carter said: "The increase the county council agreed to after eight very sparse years, is less than the average public and private sector pay increases, and less than the staff pay awards that we have given to our staff."