Ambulance fails to respond to injured Maidstone schoolboy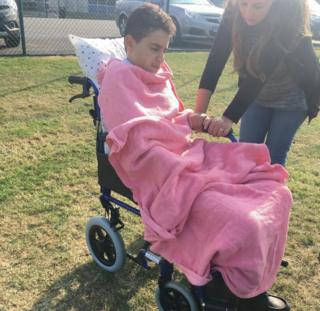 An ambulance trust has apologised as a father had to drive his injured son to hospital after waiting for nearly two hours for paramedics to arrive.
Yahya Amarzouk, 13, suffered a broken collarbone during the lunch break at Maplesden Noakes School in Maidstone.
His father Taoufiq said a 999 call was made but when an ambulance failed to turn up he had to take action himself.
South East Coast Ambulance Service said it was "very sorry for the delay in responding to the call" on Tuesday.
In a statement, it said: "We have a duty to prioritise immediately life-threatening calls, and while we are working hard to improve response times across our region, there are times when demand for our services means we are unable to reach some patients as quickly as we would like.
"We would invite anyone with concerns to contact us so we can fully investigate and report back to them directly."
Mr Amarzouk, from Maidstone, said his son was injured during "a bad fall and blacked out for a minute or so".
"The school staff were very good and gave first aid treatment, and called an ambulance at 13:50 BST.
"I rushed with my wife to the school and we knew something was really badly wrong straight away."
'Great deal of pain'
He said they waited an hour before making a second call.
"My son was shaking, I was very upset," he said.
"We waited and waited and after one hour and 50 minutes wait I had to take action and take him by car to Maidstone Hospital as carefully as I could," Mr Amarzouk recalled.
"I need to understand why the ambulance didn't even turn up."
A spokesman for South East Coast Ambulance Service NHS Foundation Trust said: "We would like to offer our apologies to the patient, his family and everyone involved.
"We appreciate he would have been in a great deal of pain and discomfort and that the delay will have caused everyone additional distress."