Gillingham FC director accused of $6m healthcare fraud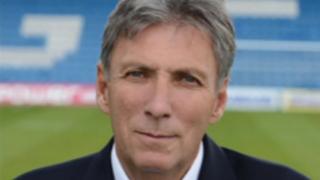 A League One football club director has been charged by a United States grand jury of healthcare fraud amounting to $5.7m.
Michael Anderson has now stepped down from his role as vice-chairman of Gillingham Football Club.
The allegations involve a scam targeting a US government-backed programme for members and veterans of the armed forces and their families.
He could face up to 60 years in jail if convicted and have to repay the money.
The Kent club's accounts show Mr Anderson invested large amounts of money in the team, and was still owed £433,000 in the latest figures from May 2016.
Mr Anderson has been contacted by the BBC for comment.
'No shareholding'
Club chairman Paul Scally said: "Mr Anderson has agreed to step down as vice-chairman of Gillingham Football Club with immediate effect until the matter is resolved.
"Mr Anderson has no shareholding in Gillingham Football Club nor associated companies, he is a non-executive director and has no executive involvement in the day to day running of the football club or associated companies.
"I have spoken to the EFL, they have noted the position."
The 64-year-old previously lived in Windermere, Florida, where his company DMA Logistics LLC was based.
According to the United States Attorney's Office for the middle district of Florida, he has has been charged with one count of conspiracy to commit health care fraud and wire fraud, and two counts of money laundering that impacted the TRICARE pharmacy program.
It related to activity between 2014 and 2015 where it is alleged Mr Anderson and conspirators generated false prescriptions and then submitted fraudulent reimbursement claims.