Man dead at Tunbridge Wells hedonist festival site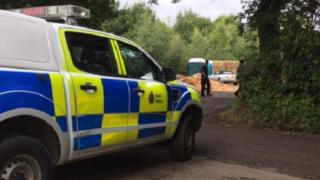 A man has been found dead at a campsite that hosted a hedonist festival over the weekend.
Emergency services were called to the campsite in Powder Mill Lane, Tunbridge Wells, at 06:14 BST.
The man was pronounced dead at the scene and an unconscious woman was airlifted to hospital. Kent Police is treating the death as unexplained.
Flamefest, which boasts a "discreet" adult play area and outdoor dungeon, was at the site on Saturday and Sunday.
Described on its website as a "festival for kinky, quirky, creative hedonists", it showcases musicians and DJs as well as circus-style performers with sword-swallowing and fire.
Its adult "play area" allows festival-goers to "explore kinks" and "play within the boundaries of our common-sense rules" with dominatrices and monitors.
Organiser Helen Smedley created the festival but declined to comment on the unexplained death.
Tunbridge Wells council said the event was authorised by a temporary event notice and it has "no discretion to select the type of events held providing they meet the requirements of the relevant legislation".
Council officers undertook site visits in the week running up to the festival, which did not require formal planning permission.
A spokeswoman said: "But tracks which have been laid through the woods do require planning permission. A retrospective application has been sought, which will be assessed on its own merits. If it is not found to be acceptable then enforcement action will be taken. Investigations regarding the felling of trees are ongoing."