Goodwin Sands: Not dredging 'will cost £500m', warns firm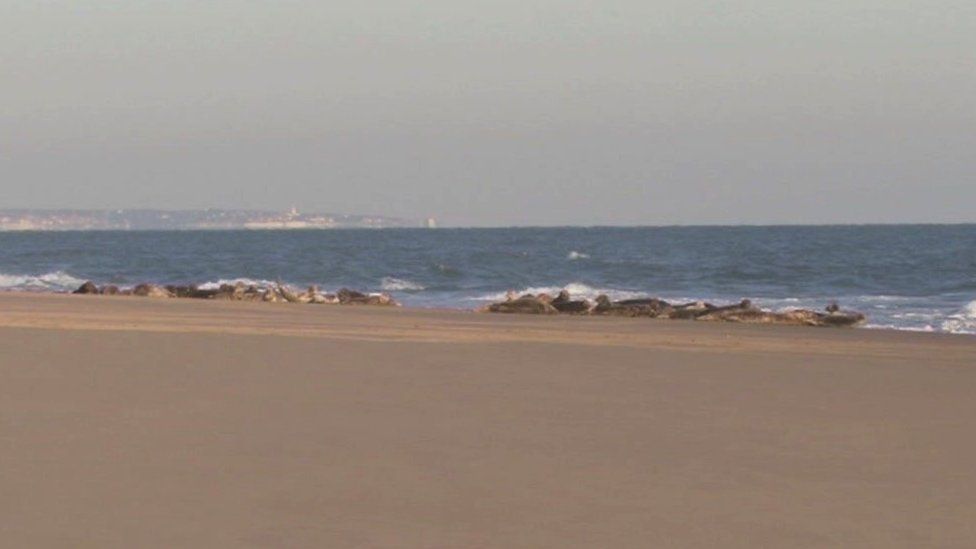 The Port of Dover says it "must" take sand from the one of the world's largest maritime war graves, or risk costing the economy half a billion pounds.
Dover Harbour Board (DHB) said dredging Goodwin Sands would keep costs low on a huge project to rejuvenate Europe's busiest port.
Campaigners say it threatens a "unique seabed habitat" and the final resting place of war heroes.
The redevelopment will cost £250m.
Dover Western Docks Revival, financed by private investment and European Union grant funding, will create more space for ferry traffic, a new cargo terminal and leisure facilities.
While the project itself is not under threat, the extra cost of dredging further away, the board said, will mean shops, restaurants and cafes will have to be scrapped.
Goodwin Sands is a 10-mile (16 km) long sandbank off the Kent coast which is infamous for shipwrecks.
Neil Wiggins, a non-executive director of DHB added: "Damage to the environment will be limited and temporary. The sands are shifting sands, and it's anticipated to recover quite quickly.
"The specific area we're looking at has been dredged previously, so had there been historic artefacts of interest, or plane wrecks, they're not there any more."
'Sucking up human remains'
At the request of the Ministry of Defence (MoD), David Brocklehurst, chairman of the Battle of Britain Museum in Hawkinge compiled a list of about 60 aircraft that crashed during four months of 1940, with at least 74 airman missing in and around Goodwin Sands.
He says there are hundreds more in the area, and thousands of sailors who are unaccounted for.
He added: "The board physically cannot promise that. They cannot do this sympathetically. They are going to be sucking up human remains from the sea bed."
A report in 2008 by Wessex Archaeology - commissioned by Historic England - found the seabed off the south east coast of England has the highest density of aircraft crash remains in the world.
Joanna Thompson from Goodwin Sands SOS said: "Other sites in the east English channel and Thames Estuary are readily available. Dover Harbour doesn't have a contingency plan, which is gross negligence for a development of this size."
The Marine Management Organisation has the final decision on the dredging, which will be made once they have the results from a survey and third consultation being carried out this summer.
Related Internet Links
The BBC is not responsible for the content of external sites.