Richard Page: Christian director on 'publicity campaign'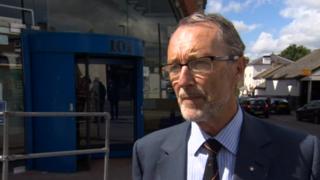 A former magistrate was more concerned about his "publicity campaign" than his position as an NHS trust director, a tribunal has heard.
Richard Page was struck from the bench following an interview where he said it was better for heterosexuals to adopt.
He was also removed as a non-executive director of the Kent and Medway NHS and Social Care Partnership Trust (KMPT).
Mr Page, a devout Christian from Headcorn in Kent, is now suing the NHS over his dismissal.
During his televised interview, Mr Page said: "I feel what's best for the child is what is natural, a man and a woman."
It followed his ruling in 2014 against a gay couple's adoption bid, which the other magistrates and court clerk complained about.
'Accused'
When asked by the legal representative for the NHS, David Massarella, if he considered his position with the trust when he gave the interview, Mr Page said "no".
Mr Massarella added: "You were more concerned with your publicity campaign than in your position in the trust."
Mr Page denied the point and said he wanted to retain his position at the trust, but would "likely" do more media interviews after the tribunal because "what happened to me I consider to be wrong".
"I am not homophobic, but was accused of being so," he added.
In the letter reporting the conclusions of the NHS dismissal, the panel said he failed to understand how statements made in public by him would affect the public perception of the trust and the confidence of staff.
It also noted he showed no remorse for his statement.
The tribunal continues.