Contract cut with criticised 'litter police' in Maidstone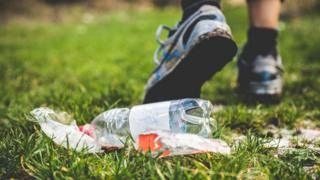 A council has cancelled its contract with Kingdom's environmental services after a Panorama report exposed some officers bragging about their bonuses.
Maidstone Borough Council suspended its so-called "litter police" for a review after a woman was wrongly fined last year for feeding some ducks.
Now the parties have "come to a mutual decision" not the extend the contract.
The council is deciding whether to retender for a new enforcement contract or bring the service in-house.
The Panorama report focused on case studies in Hertfordshire, London, and Kent, where people were incorrectly fined by the private company.
One officer, covertly filmed, said while working in Ashford he raked in a bonus of almost £1,000.
Ashford Borough Council removed all its Kingdom officers from patrolling the streets for retraining, and has been approached for a comment on the result of that action.
Maidstone council's head of environment, Jennifer Shepherd, said: "When our contract began with Kingdom our focus was very much on targeting littering and irresponsible dog ownership.
"This has been very successful at reducing littering and encouraging people to use litter bins and act responsibly. Our focus has to change and adapt to new challenges we are seeing in the borough."
Gravesham Borough Council severed ties with Kingdom last year and now operates its litter enforcement in-house.