Eli Cox death accused: 'I've never hurt him ever'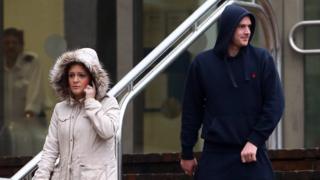 A man accused of causing the death of a baby boy told police he had never lost his temper with him, a court has heard.
Eli Cox collapsed at his Kent home in April last year and died two weeks later in hospital.
His mother Katherine Cox, 33, and her partner Danny Shepherd, 25, have denied causing his death.
Maidstone Crown Court heard Mr Shepherd told police he had laid Eli on the bed. He said shortly afterwards Eli turned blue and was frothing at the mouth.
The court heard Mr Shepherd told police Eli had "gone floppy" and he shouted at Ms Cox to call an ambulance.
He said he had tried to give Eli mouth-to-mouth resuscitation and chest compressions, jurors were told.
During his police interview Det Con Lisa James asked: "Do you know how, at any point, Eli got his injuries?"
Mr Shepherd replied: "Nope."
He denied he had caused the injuries, and told officers he did not know how Eli had been injured.
Mr Shepherd said: "I've never hurt him ever, or any of the other kids we got, never."
'Deliberately and maliciously'
Earlier the court heard the type of head injury that caused Eli's death could have been caused by a panicked carer attempting to resuscitate him.
Defence witness, neurosurgeon Dr Peter Richards told the court: "Whatever happened was catastrophic and fatal for the baby."
He said he had concluded that Eli had "collapsed and died as a result of a recent head injury - a serious memorable event that a carer should have been aware of".
Defence barrister Nadine Radford asked him if "an incompetent attempt" at resuscitating a child could cause the same brain injuries that a child shaken "deliberately and maliciously" would sustain.
Dr Richards replied that a child shaken with "imprudent force" could suffer the same brain damage, adding that the motivation of the perpetrator would not affect the outcome.
The trial continues.