Medway young offenders 'watch porn on TV'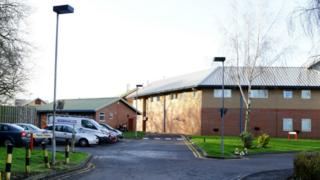 Inmates at a scandal-hit young offenders centre have been able to watch porn on TV, inspectors found.
Ofsted found youths at Medway Secure Training Centre (STC) in Rochester were able to access "channels containing explicit sexual adult content".
The education watchdog, which rated Medway inadequate, also said staff at the ex-G4S facility were "poorly-trained and largely unqualified".
A government spokesman said there had been "steady progress" in many areas.
Steps had been taken to prevent inmates watching explicit TV, inspectors said, but had yet to be implemented.
A BBC Panorama investigation in January 2015 featured undercover footage showing staff mistreating and abusing inmates.
It was being run by G4S at the time of the programme but has since been taken over by the National Offender Management Service.
Ofsted inspectors raised a number of concerns after visiting Medway, which houses 76 male and female inmates aged between 12 and 18, in March this year.
They said staff employment history and past performance information for former G4S workers was not available to the current governor.
'Unfit for children'
"This means that staff who may have experienced disciplinary or capability measures no longer have this information on their employment records," the report said.
"This is a serious shortfall."
Ofsted also reported CCTV coverage was lacking in areas where young inmates had reported feeling unsafe and staff's body-worn cameras were not always switched on.
Inspectors said: "The confusion and weak understanding of responsibilities, coupled with a poorly-trained and largely unqualified workforce, including at managerial grades, is hampering the governor's ability to make swifter progress at the centre."
Inspectors recommended immediate action be taken to ensure young people at risk of suicide or self-harm were regularly reviewed.
Frances Crook, chief executive of the Howard League for Penal Reform, said: "Almost 18 months have passed since the BBC's shocking Panorama documentary, and yet today we read another awful report on Medway, which is clearly unfit to look after children."
'Completely unacceptable'
A spokesman for the Ministry of Justice said: "We are pleased that this report found Medway has made steady progress in a number of areas since the last inspection, but we are clear that there is still a lot of work to do.
"That is why we are implementing a comprehensive plan which includes the appointment of new specialist, highly-trained staff and improved support for vulnerable children."
He said children watching sexually explicit material on TV was "completely unacceptable".
"As soon as this issue was brought to the attention of staff at Medway, immediate action was taken to modify TVs so that young people cannot view sexually explicit content under any circumstances."