Kent children's services 'strengthened'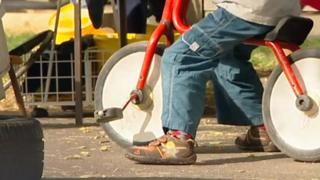 Children's services in Kent have improved despite "a significant increase in the number of unaccompanied asylum-seeking children" in the county.
Overall, Ofsted rated the services, including adoption, as "good".
Seven years ago they were rated "inadequate", while an inspection three years later judged them as "adequate".
Leader of Kent County Council, Paul Carter, said the authority's goal was to have an "outstanding" inspection result.
Following an inspection in March, inspectors found leaders and senior managers had "responded purposefully and methodically to service weaknesses".
This had resulted in "strengthened services and improved outcomes for children".
However, they said the Local Safeguarding Children Board "required improvement".
Mr Carter, said the "good" rating followed a "rigorous three-week inspection of every aspect of children's services".
He said inspectors looked at the help and support given to unaccompanied child asylum-seekers, of which there had been "some 1,400 young people on top of the 1,500 indigenous young people in care".
Mr Carter said there were always areas of required improvement, many of which had been identified and acted upon.