Dover Banksy mural shows star chiselled off EU flag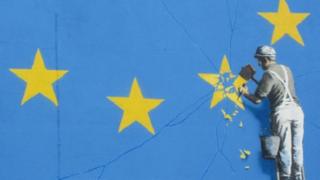 A mural of a workman removing a star from the EU flag has been confirmed as the work of graffiti artist Banksy.
The artwork, which is near Dover's ferry terminal, appeared near the A20 in Kent on Sunday morning.
The mysterious artist is known for his political pieces. His latest comes as the UK heads towards a general election and prepares to leave the EU.
While some discredit the work as being "too obvious" others focussed on the subtle cracks, not the chiselling.
BBC - iWonder - How did Banksy become the world's most famous vandal?
On Facebook, Jan Honza Zicha said: "I remember time when [Banksy] was 'on to subject' before anyone else or at least part of the first liners. Unfortunately this time, he is about 10 months too late and the art work is truly... well obvious and uninnovative."
Pictures of the mural, near Dover's ferry terminal, were posted on Banksy's Instagram account. A representative confirmed it was his over the weekend.
Live: More on this story and other news from Kent
One comment, from a user named Hosannah Excelsis, said: "The chiselling is cracking the whole thing up, very subtle, difficult to see cracks from a distance #amazingmetaphor #Banksy."
It is not the first time Banksy has been creative in Kent.
In 2014, a mural of a woman staring at an empty plinth was painted on a wall in Folkestone before it was vandalised with an obscene image.
It was shipped to the USA to be sold, but was returned to Folkestone in 2015 after a lengthy High Court battle. Ownership was disputed between a charity which promotes art and the bosses of an arcade where the graffiti appeared.
Get news from the BBC in your inbox, each weekday morning