Dreamland amusement park revamp ahead of summer season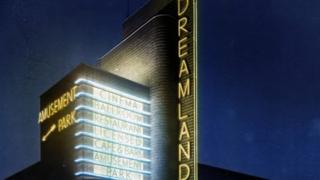 Margate's troubled Dreamland amusement park will be "massively different" when it reopens for the summer season, operator Sands Heritage has promised.
The attraction on the Kent coast was placed in administration last year with debts of more than £14m, but has since received £25m in private investment.
Over the winter it has had a multi-million pound revamp with new rides and a 15,000-capacity music stage.
Chief executive Steven Mitchell said it was "elevating what was already there".
He added: "[We're] turning the park and the rides into things that really reflect their vintage heritage, so we're investing a lot of money in restoring and upgrading rides."
Mr Mitchell said more than 1,000 trees were also being planted around the site to create a parkland setting where "people will want to spend some time".
"Everyone wants to make this place a great success," he added.
Modern additions include an interactive marble run and a mirrored spinning top, along with street food and a programme of live events.
Restoration work has also been carried out on Dreamland's famous vertical sign, to replicate the colours of the original Dreamland neon signage.
The lighting is part of Thanet District Council's phase two development of the Grade II* listed former Sunshine Cafe and cinema entrance foyer.
Rob Kenyon, director of community services, said: "There's a real sense of Dreamland being in the DNA of people around here.
"This place is about the light, and this is really adding a bit of the glitz and the glamour and the grandeur back to this iconic seafront resort."
Dreamland opens for the summer season on 26 May.