Kent English Democrats official jailed for election fraud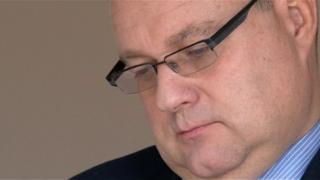 A political party leader who faked candidates during local elections has been jailed.
Steve Uncles, 52, regional leader of the English Democrats, was convicted of electoral fraud after the elections in Kent in 2013.
Fictional candidates were put forward as well as people who had not agreed to stand, Maidstone Crown Court heard.
Uncles, of Shears Close, Wilmington, near Dartford was jailed for seven-and-a-half months.
He was convicted on 24 February of seven counts of using a false instrument with intent and two counts of causing or permitting a false statement to be included in a nomination form.
'Results unaffected'
Det Sgt Alec Wood, of Kent Police, said: "Uncles submitted a number of nomination papers to council returning officers that contained details that were either materially false, were not signed by those who were standing, or simply didn't exist at all.
"In two cases the identities of two very elderly persons were used without their explicit knowledge.
"These actions have deceived voters into casting a vote for persons who simply could never have taken office."
The court heard however, that votes cast for the fake candidates had not affected the election results.
Following his trial, Uncles announced on Twitter he would be standing down from all party offices.
In May 2016, he stood in the elections for the police and crime commissioner for Kent.
He came last out of six candidates and was eliminated in the first count.