Tonbridge football club raises thousands for heart screenings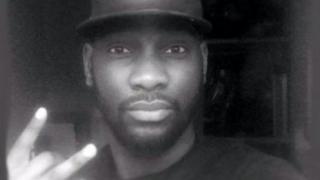 A football club where two players died suddenly of undetected heart problems has raised more than £33,000 to screen players for potential heart defects.
About 900 people across Kent, including players and supporters, have been screened thanks to Tonbridge Angels FC's Football Fightback campaign.
It follows the deaths of footballers Junior Dian, 24, and Jack Maddams, 17.
The campaign was founded by Jack's father in conjunction with the charity, Cardiac Risk in the Young (CRY).
Mr Dian collapsed and died on the pitch while he was playing for Tonbridge Angels in July 2015.
Jack died in his sleep seven years earlier.
Roger Maddams said: "I could name four footballers who will be playing today in Kent and in senior football who are playing and enjoying their life through having picked up issues on the screening and something's been done about it."
He said the fundraising had been a "community effort".
"I would give everything to have Jack standing next to me now... I'm immensely proud of the way the footballing community has rallied round this cause.
"I'm very humbled and very pleased to be able to do something which will hopefully make a little difference to stopping the pain and heartache that my family and friends have had to go through," he said.