Hundreds gather 75 years after World War Two Channel Dash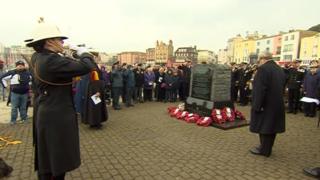 Hundreds of people gathered in Ramsgate to pay tribute to 18 airmen who took part in a wartime operation known as The Channel Dash.
On 12 February 1942, the 18 pilots left RAF Manston in six Swordfish torpedo bombers to try to stop three German battle cruisers in the Channel.
All of the planes were shot down and just five men survived.
Senior naval officers joined the Channel Dash Association in the harbour to remember the 825 squadron.
A service and flypast was held before a small group laid flowers in the commercial harbour.