Naked gardener Robert Jenner denies 13 offences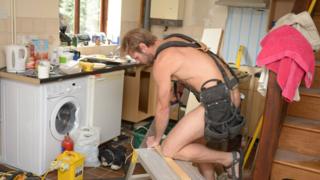 A man who carried out DIY tasks and gardening while naked was seen bending over in his garden wearing only his work boots, a court has heard.
The prosecution at the trial of Robert Jenner, from Eccles in Kent, alleges he is an exhibitionist, not a naturist.
Witness Fred Black told magistrates he was disgusted: "There's kids walking up and down that street 24/7. People don't want to see that. It's not right."
Mr Jenner, from Stevens Road, denies 13 public order offences.
The prosecution alleges his behaviour caused alarm and distress.
But Mr Jenner's defence team says he is a naturist and believes his behaviour to have been reasonable - a freedom of expression.
The case continues.