Ashford 'bully' Darren McKay jailed for killing friend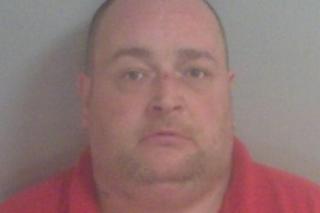 A "bully" who killed his friend by kicking him in the head has been jailed.
Darren McKay, 39, of Ashford, Kent, who admitted manslaughter, was jailed for 10 years at Maidstone Crown Court.
McKay claimed he kicked Mr Walden in May because he was worried the 51-year-old was about to self-harm. He found Mr Walden's body the next day.
After the hearing, Det Insp Richard Vickery described the relationship as abusive and said McKay was a "bully".
Kent Police said McKay admitted punching Mr Walden twice in the jaw "in a jokey way", but Mr Walden got a knife and McKay then kicked him twice.
'Control and abuse'
The pair, who both had an alcohol dependency and had been intimate although their relationship had been platonic for about eight years, behaved like old friends afterwards, the force said.
A post-mortem examination found Mr Walden, of Bybrook Road, may have fallen but his injuries pointed to assault by a third party.
Mr Vickery said: "McKay had a set of keys to Mr Walden's flat and had significant control of Mr Walden's daily activity.
"He abused Mr Walden's friendship and was, in simple terms, a bully."
McKay, of Beecholme Drive, Kennington, was initially charged with murder but pleaded guilty to manslaughter in November.