Kent pub campaigners vow to 'fight on' despite setbacks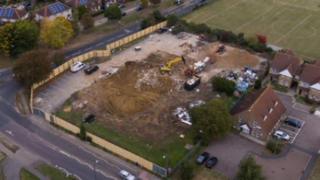 Campaigners battling to save pubs in Kent have vowed to "fight on" despite setbacks from a borough council.
In December Gravesham Borough Council refused to list the Battle of Britain pub site in Northfleet as a community asset after it was illegally torn down.
It has now also declined to make an order protecting local pubs on a "wholesale basis".
Campaigner Tina Brooker said: "We all feel very badly let down. This is not the end."
"We have pretty much been snubbed. We must decide how to take this further, but we will fight on," she added.
Despite protests when the bulldozers rolled in, demolition began without permission on the 70-year-old pub in October.
The council halted the work, but there was so much damage the building was unsafe and had to be destroyed. No prosecution has been lodged.
There are currently no planning applications for the site. One put in for housing in 2012 has now lapsed.
Supported by the Campaign for Real Ale (CAMRA), 500 residents pushed for the pub site to be listed as a community asset, so developers would have to rebuild it.
That was refused by the council as the flattened remains do not "further the social wellbeing or social interest of the local community".
The group since contacted the council to instate an Article 4 order to make it harder to change the use of, or demolish, other local pubs.
The Battle of Britain started out as a wooden hut, built by RAF personnel to commemorate Gravesend being the first RAF station to operate the American P-51 Mustang III fighter-bomber.
Developers can change a pub into a supermarket or houses via permitted development rights, but an Article 4 order dictates they must obtain council planning permission.
However, a Gravesham council spokeswoman said: "Whilst the council would not rule out the making of Article 4 Directions where appropriate in the future, to do so on such a wholesale basis would be inappropriate."