'Slavery' case chicken catchers win £1m payout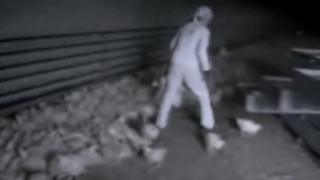 A gangmaster firm that exploited workers on farms across the UK is to pay compensation, lawyers have said.
Six Lithuanian men won a case in June at the High Court where they claimed they had been trafficked to the UK to work as chicken catchers by Kent-based DJ Houghton Catching Services.
Mr Justice Supperstone found against the firm, in Wheelers Lane, Maidstone.
Lawyers for the men said compensation plus costs had now been agreed at more than £1m in an out-of-court settlement.
Legal firm Leigh Day would not reveal the amount of compensation to be paid, but said the £1m figure referred to compensation payable by the firm and the amount it would have to pay towards its own legal defence costs.
Another 10 workers are to bring claims against the firm next year.
'Modern slavery'
DJ Houghton employed the men, aged between 19 and 58, to catch birds in chicken houses on farms across the UK between 2008 and 2012.
In June, the judge found the company, run by Darrell Houghton and Jacqueline Judge, unlawfully withheld wages and failed to ensure the workers had adequate facilities to wash, rest, eat and drink.
He found claimants were paid for the number of chickens caught rather than time worked and spent travelling.
The claimants also alleged they were harassed, assaulted and threatened by supervisors.
There was no admission of liability by the defendants.
Shanta Martin, partner at Leigh Day, said: "Our clients have faced enormous difficulties since they came to the UK thinking they would be earning a decent living for honest work, but found themselves being terribly exploited by a British business.
"The very large bill being faced by the defendants for both the compensation and their defence costs is also a salutary lesson to others who might seek to profit from modern slavery."
Mr Houghton and Ms Judge have never commented to the BBC.