Thanet Council fined £250k over 'vibration white finger' claims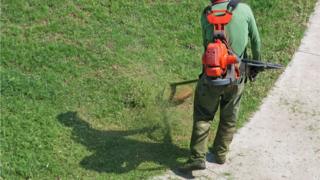 A council has been fined £250,000 for health and safety breaches which resulted in a dozen workers developing the condition vibration white finger.
The industrial disease, also known as hand-arm vibration syndrome (HAVS), is triggered by continuous use of vibrating hand-held machinery.
Twelve ground maintenance workers were diagnosed with HAVS, with another 40 referred to occupational health.
Thanet District Council apologised to those affected.
HAVS affects the blood vessels, nerves, muscles and joints of the hand, wrist and arm, and can cause pain and numbness.
'Cant do day job'
The authority admitted two of four charges in a case at Canterbury Crown Court brought by the Health and Safety Executive (HSE).
Two other charges, which the council denied, were ordered to be left on file.
The court heard 12 workers had used grass strimmers in cemeteries in Margate and Ramsgate for six hours a day for up to a decade, with no risk assessment or controls in place until 2014.
HSE spokesman Mike Walters said those affected had "suffered significantly from ill-health".
"They can't do their day job, they're suffering with things they used to be able to do at home," he said.
The council said it had undertaken an extensive review of its policies and procedures to ensure the incident would not happen again.
It said it had made provision for the fine and the money would not come out of its reserves.
Judge Heather Norton also ordered the council to pay £18,000 in costs.